KEYNOTE SPEAKERS
Dr David Zideman 
LVO, QHP(C), BSc, MBBS, FRCA,  FRCP, FIMC, FERC
David Zideman has been a consultant anaesthetist at the Hammersmith Hospital, London, since 1980 and an honorary senior lecturer at the University of London since 1981. He was Chief of Service for anaesthesia from 1995 until 2008. He supervised the amalgamation of the Hammersmith Hospital, Queen Charlotte's Hospital and Charing Cross Hospital anaesthetic departments into the Hammersmith Hospital NHS Trust and later co-ordinated the integration of St Mary's Hospital anaesthetic department to become the new Imperial College Healthcare NHS Trust.  In 2012 he was awarded the esteemed Honorary Fellowship of the Royal College of Physicians and received the Gold Medal from the Royal College of Anaesthetists in recognition of his services to anaesthesia and medicine.
David's services to the Royal Family, as a Queen's Honorary Physician since 1992, have been recognized by the highly prestigious award in Her Majesty's the Queen's 2009 Birthday Honours list as Lieutenant in the Royal Victorian Order (LVO).
David Zideman was a founding member of the Resuscitation Council (United Kingdom), was its honorary secretary from 1981 to 1989 and awarded an Honorary Member of the Resuscitation Council(UK) in 2009. He was honorary secretary of the European Resuscitation Council (ERC) from 1997 to 2002 and chair of the ERC from 2003 to 2008. He was made an Honorary Member and awarded the Fellowship of the ERC in 2010.  
David was a founder member of the International Liaison Committee on Resuscitation (ILCOR) and co-chaired the Paediatric Task Force in 2000 and 2005.  In 2010 he co-chaired the ILCOR Consensus on Science meeting and in 2015 co-chaired the First Aid Task Force. In 2010 the American Heart Association named David as a 'Resuscitation Great' for his International contribution to resuscitation medicine.
David chaired the British Association for Immediate Care (BASICS) from 2003 to 2007, was awarded a lifetime membership in 2008 and received the Asmund Laerdal Award in 2013.  He is an Honorary Medical Advisor to the London Ambulance Service NHS Trust and he has flown as a HEMS doctor on the London Air Ambulance.  He recently held the post of Director of Clinical Operations for East Anglian Air Ambulance and now flies as a HEMS doctor with Thames Valley Air Ambulance.
In 2008 David was appointed as Clinical Lead—Emergency Medical Services for the 2012 London Olympic and Paralympic Games and has been appointed to the International Olympic Medical and Scientific Games Group for the Olympic Games in Rio de Janeiro in 2016. In 2015 David co-edited the International Olympic Committee Manual of Emergency Sports Medicine.
 Dr Laurie J. Morrison
Dr. Morrison is the Robert & Dorothy Pitts Research Chair in Acute Care & Emergency Medicine, Professor and Clinician Scientist in the Division of Emergency Medicine, Department of Medicine at the University of Toronto and Li Ka Shing Knowledge Institute at St Michael's Hospital.  She is the Director of Rescu, a resuscitation research program focusing on the evaluation and implementation of pre-hospital and transport medicine time sensitive interventions in acute emergencies (www.rescu.ca).  She conducts systematic reviews and meta-analyses in topics pertaining to Acute Coronary Syndrome and Resuscitation and has established a collaborative network to conduct randomized controlled trials and outcome validation studies in prehospital resuscitation research.  She is a US National Institute of Health, Canadian Institute of Health Research and Heart and Stroke Foundation of Canada and Brain Canada funded investigator. 
Dr Morrison contributed to the development of the 2005 and 2010 AHA Guidelines and is currently a member of the International Liaison Committee of Resuscitation Advance Life Support Taskforce for Guidelines 2015. Born and educated in Peterborough Ontario, Canada, Dr Morrison completed her undergraduate at Queens University, Kingston Ontario and her medical degree at McMaster University, Hamilton Ontario.
Completing her postgraduate training in Emergency Medicine at McGill University in Montreal, Dr Morrison then went on to complete her fellowship at the University of Toronto and returned to McMaster in 2000 to obtain a graduate degree in Health Research Design. 
Dr Morrison has received a number of awards, namely being the recipient of the Canadian Medical Association Award for Excellence in Mentorship; the May Cohen Award and a similar award from the University of Toronto with the Department of Medicine, the Bob Hyland award. She has been awarded the William Goldie award from the Department of Medicine at the University of Toronto for Outstanding Contribution as a Leader and Scholar in Emergency Medicine and this year was awarded the University of Toronto Helen P. Batty Award for Excellence and Achievement in Faculty Development for Sustained Contribution to the field.
PLENARY SPEAKERS 
Dr Richard Aickin
Richard is a Paediatric Emergency Specialist, and holds dual Fellowships in Paediatrics and Emergency Medicine. He has been involved with the New Zealand Resuscitation Council since 1997. Besides his role as Chair of the Council, Richard is also New Zealand's delegate to ILCOR and a co-opted member of the Executive Committee of the Australian Resuscitation Council.                                                                                                                                                                                                                                                                                                                                                                                                                                                                                 
Dr Theresa Bidwell
Orthopaedic Surgeon, Starship Hospital
Orthopaedic Surgeon graduated 2004, Fellowships in Australia and the United States on Trauma, Upper Limb Surgery and Children's Orthopaedics. Currently working at Starship as a paediatric orthopaedic Surgeon. Applied to MSF last year and worked in Kunduz Afghanistan in August-September 2015.                                                                                                                                                                                                                                                                                                                                                                                                                                                                                                                                                                                                                                                                                                                                                           
Professor Julie Considine RN, PhD
Professor Julie Considine holds a joint appointment between Deakin University and Eastern Health, one of Victoria's largest health services. Julie is a leader in emergency nursing research and education with a particular interest in evidence-informed emergency care. Julie has over 120 publications and has attracted over $5.2M in research and project funding. She is a founding fellow of the College of Emergency Nursing Australasia and fellow of the Australian College of Nursing. Julie is Deputy Editor of the Australasian Emergency Nursing Journal, represents the College of Emergency Nursing Australasia on the Australian Resuscitation Council, and is a member of the International Liaison Committee of Resuscitation Basic Life Support TaskForce.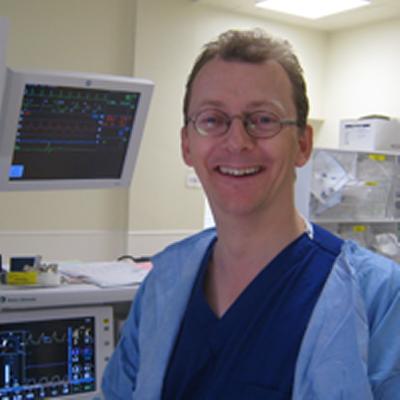 Professor Charles Deakin MA, MD, MB BChir, FRCA, FRCP, FFICM, FERC
Professor Charles Deakin is Honorary Professor of Resuscitation and PreHospital Emergency Medicine within Medicine at the University of Southampton.

Professor Deakin qualified from Cambridge University in 1988 and completed his higher medical training in London and Bristol before transferring to Southampton in 1994, where he was appointed to his current clinical post of Consultant in Cardiac Anaesthesia and Intensive Care, University Hospital Southampton in 1999. He is also Assistant Medical Director for South Central Ambulance Service and holds an Honorary Chair at the University of Southampton where he is Professor of Resuscitation and Prehospital Emergency Medicine.
Professor Deakin's academic interests are focused on pre-hospital trauma and resuscitation and he has researched and published extensively in these areas. He chaired the Advanced Life Support (ALS) Committee of the European Resuscitation Council from 2001-2012 and was ALS co-chair of the International Liaison Committee on Resuscitation for the 2005 and 2010 resuscitation guidelines revisions. He is a member of the Executive Committee of the Resuscitation Council (UK) and is lead for adult resuscitation for the Joint Royal Colleges Ambulance Liaison Committee, which sets the standards for UK paramedic practice.
Professor Deakin founded the Hampshire and Isle of Wight Air Ambulance where he is the clinical lead, and also chairs the Medical and Survival Sub Committee of the RNLI.                                                                                                        
Professor Judith Finn
Judith is a clinical epidemiologist (with a clinical background as a critical care registered nurse and midwife) currently employed as a research professor in the Prehospital, Resuscitation and Emergency Care Research Unit (PRECRU) at Curtin University (Perth); and holds a seconded fractional appointment in the School of Public Health and Preventive Medicine at Monash University.  She is the Director and Chief Investigator of "The Australian Resuscitation Outcomes Consortium (Aus-ROC)" – a NH&MRC Centre of Research Excellence.  Aus-ROC is involved in the conduct of multi-centre clinical trials in out-of-hospital cardiac arrest (OHCA) and the establishment of the Australia/New Zealand OHCA registry.  Judith has had a long-standing commitment to improving outcomes after cardiac arrest; and believes that this will require a concerted effort to strengthen all links in the chain of survival, including improved recognition of cardiac arrest during emergency calls to ambulance services.  Judith is the Co-Chair of the International Liaison Committee on Resuscitation (ILCOR) "Education, Implementation and Teams" Taskforce – involved in the development of the 2015 consensus on resuscitation science and treatment recommendations; and an Editorial Board member of the Journal "Resuscitation".                                                                                                                                                                                                                                                                                                                                                                                                                    
Rob Frengley
Rob is an intensive care specialist based at Waikato Hospital's Critical Care Department. He has been the Australian and New Zealand Intensive Care Society's representative since 2004, and Deputy Chair of the Council since 2008.
Rob graduated from the University of Otago's Medical School in 1992. He later specialised in the areas of Anaesthesia and Intensive Care, completing his training in New Zealand and Sweden.
Rob has a strong interest in human factors and teamwork dynamics in crises, and has extensive experience at training and debriefing high-performance resuscitation teams.                                                                                                    
A/Prof Helen Liley
A/Prof Helen Liley is a neonatologist at Mater Mothers' Hospital, Brisbane and since 2009 has been a member of the Australian Resuscitation Council.  She is an ANZCOR representative to the International Liaison Committee on Resuscitation Neonatal Working Group, which undertook the systematic review and evidence appraisal that led to the 2010 and 2015 revisions of the guidelines. Her research includes human factors aspects of neonatal resuscitation.                                                                                                                                                                                                                                                                                                            
Michael Meyer
Dr. Michael Meyer trained as a paediatrician at Groote Schuur and Red Cross Children's Hospitals in Cape Town, South Africa. He did fellowships in both Neonatology and Immunology, and obtained a Doctorate in Paediatrics (MD) from the University of Cape Town (UCT). He was a consultant neonatologist and senior lecturer in Cape Town and director of the neonatal research laboratory at UCT. He is a Member of the Royal College of Physicians MRCP (UK) and a Fellow of the Royal Australasian College (FRACP). He is a specialist in neonatology at Middlemore Hospital, Auckland, New Zealand and a Clinical Senior Lecturer at the University of Auckland. He has been lead investigator in several randomized controlled trials. Current research interests include preterm resuscitation, temperature control, humidification, delayed cord clamping, use of probiotics in preterm infants, erythropoietin and blood transfusion.
Lindsay Mildenhall
Lindsay is a Consultant Neonatologist at Counties Manukau District Health Board, with research interests in Neonatal Echocardiography. He was an ILCOR Neonatal Resuscitation worksheet author for the 2010 review, and a Topic Co-Chair for the 2015 round.  Lindsay has represented the New Zealand Paediatric Society since 1999.                                                                                                                                                                                                                                                                                                                                                                           
Kevin Nation
Kevin is a member of the NZRC representing the CORE Instructors of New Zealand (CINZ). He is a senior nurse working in Clinical Cardiology at Waikato Hospital and is a resuscitation educator at the Waikato Clinical School, Hamilton. Kevin has a strong interest in education and developing the capability of New Zealand's resuscitation instructors.
He is involved in the Council's representation to ILCOR through the Australian and New Zealand Committee on Resuscitation (ANZCOR). In recent years he has been part of ILCOR's Basic Life Support Task Force.
Professor Michael Parr
Michael Parr trained in anaesthesia, internal medicine and intensive care in the UK, New Zealand, USA and Australia. He is Director of Intensive Care at Liverpool Hospital, Sydney, Associate Professor University of New South Wales and University of Western Sydney, and Director of Macquarie University Hospital Intensive Care and Associate Professor Macquarie University. He is an editor of 'Resuscitation' and ANZCA representative to and Secretary/Treasurer of the Australian Resuscitation Council. He is a member of ILCOR ALS committee and Past President of the International Trauma Care.
Dr Tony Scott
Tony represents both the Royal Australasian College of Physicians and Cardiac Society of Australia and New Zealand. Originally a pharmacist, Tony is now the Clinical Director of Cardiology at Waitemata District Health Board and Clinical Leader of the Northern Region Clinical Cardiology Network.
Tony has recently completed a term as chair of the New Zealand Continuous Professional Development committee for the Royal Australasian College of Physicians, and is a task force member of ILCOR. His interest in resuscitation science has grown ever since the early 2000's when he was part of the CORE Level 6/7 resuscitation trainer pilot.                                                                                                                                    
Dr Tony Smith, MB ChB; FANZCA; FJFICM.
Dr Tony Smith, is an Intensive Care Medicine Specialist in the Department of Critical Care Medicine at Auckland City Hospital. Dr Smith is also the national Medical Director for St John, and is responsible for overall  medical direction for the St John emergency medical service.                                                                                                                                                                                                                                                                                                                                                                                                                                                                                                                                                                                                                                                                                   

Dr Andy Swain
Andy works as Senior Lecturer in Emergency Medicine at the University of Otago, Wellington, and Medical Director of Wellington Free Ambulance. He undertakes clinical work in the Emergency Department of Wellington Hospital and also in the ambulance & helicopter environments. In the university, he is responsible for emergency medicine and resuscitation training of the final-year trainee interns. His interests are resuscitation and prehospital care and these are his areas of research and publication. Andy was a former executive member of the NZRC where he established the original NZ resuscitation registry.